At Nicor Gas, we know that strong communities depend on good citizens working together. We understand the importance of developing safe, vibrant, socially and economically stable communities for our customers, employees and partners. As part of this effort, Nicor Gas, a longtime supporter of many programs offered by College of DuPage in Glen Ellyn, committed $25,000 to the Frida Kahlo: Timeless Exhibition. The exhibition features a comprehensive presentation of the life and works of the artist Frida Kahlo. One of the most recognized artists of the 20th century, Frida Kahlo's body of work continues to resonate with a wide array of audiences. The exhibit showcases 26 original pieces as well as an immersive historical exhibit that provides a framework of the life, circumstances and events that led to Kahlo becoming one of the 20th century's most influential artists. The exhibition, originally delayed due to COVID-19, opened in June and is open to the public through Sept. 12, 2021. Like Kahlo's art itself, the exhibition has a rich history of international reach. In 1978, the Museum of Contemporary Art in Chicago held Kahlo's first major U.S. retrospective consisting of work from the Delores Olmedo collection. The exhibition was also presented in Milan and Budapest in 2018 and Moscow in 2019.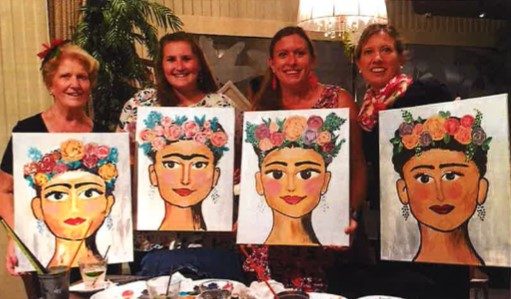 Photo courtesy of College of DuPage Foundation
Presented by the Cleve Carney Museum of Art and College of DuPage's McAninch Arts Center, Frida Kahlo: Timeless considers the many elements at play in Kahlo's work. The complexities of Kahlo's paintings cannot be fully understood or appreciated without insight into who she was as a person and the world she was a part of, specifically the role of Mexico City as a center of international art and culture in the early and middle 20th century as well as Kahlo's lifelong refusal to allow illness to restrict her diverse and intense passions. In many ways, Kahlo's painting, political expressions and identity were ahead of her time and are extremely relevant today. Kahlo explained that she "painted her reality" and this exhibition aims to provide insight into that reality while allowing the viewer intimate access to her world.  

In addition to the 26 original works presented in the exhibition, the immersive presentation includes:
A multimedia timeline with reproductions of Kahlo's clothing
More than 100 photographic images from the artist's life
A family-friendly children's area
A Frida Kahlo-inspired garden designed by Ball Horticultural
Nicor Gas is proud to join other local corporate and non-profit partners to support College of DuPage in bringing this historical and culturally influential experience to the customers and communities we serve.